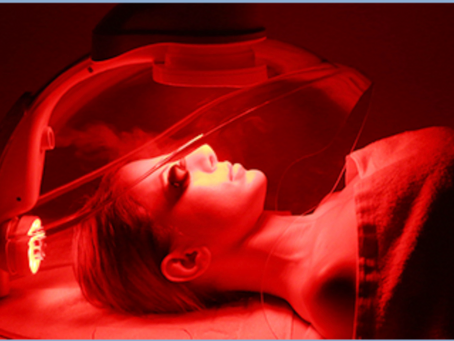 You'll Be Over the Moon with DESUAR Spa's New Astrodome Treatment!
Although it may sound like it belongs in outer space, the Astrodome is actually a specialized service just for your gorgeous face! This 30-minute treatment is a 3 step process that deep cleans, peels, and then saturates the skin with nutrients, antioxidants, and peptides to enhance the skin's natural glow. A combination of targeted NIR (Near Infra-Red), red, blue and violet light waves in addition to an Anion Mist will complete the process by naturally stimulating skin rejuvenation and improve any problematic skin conditions such as acne, redness, or irritation.
This complex treatment has so many beneficial effects for your skin and if there is any part of your skin that you should go the extra mile for, it's the face. The NIR waves are the most deeply absorbed wavelength and can greatly accelerate tissue healing and reduce scarring and hyperpigmentation by the way in which they target the inflammatory process. Anion, or negative ions, have been shown by research to improve the function of skin cell membranes by helping to deliver oxygen to the cells and tissue and increase collagen production. The Astrodome Facial produces Anion naturally though an electrically charged generator and an Anion mist will keep your skin hydrated during and long after the treatment. DESUAR Spa is so excited to offer this new and exciting non-invasive, results oriented facial that benefits all skin types. Give us a call today to book yours!
By submitting this form you agree to be contacted via phone/text/email.
By submitting this form you agree to be contacted via phone/text/email.