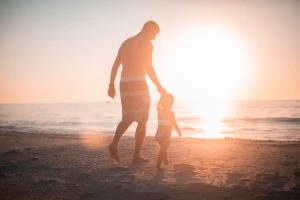 We've Got Father's Day Covered!
Let's be honest, dads love a spa day just as much, if not more than moms! So make sure you show good old dad that you appreciate everything he has done for you throughout the years, by sending him to the luxurious DESUAR spa! We will be offering three amazing "Papi Hour" packages guaranteed to please all the dads in your life. All packages include a complimentary glass of wine for dad to enjoy before or after his treatment.
PAPI PACKAGE 1 (80 min): Help dad feel refreshed and relaxed beginning with a 30-minute body scrub to remove dead skin and smooth out those rough edges. This is shortly followed by a 50-minute Swedish massage to help all the built-up stress and tension melt away. $150 (reg $200)
PAPI PACKAGE 2 (100 min): Start dad off with a 50-minute deep tissue massage to alleviate those aches and pains and penetrate sore muscles. Then follow it up with a 50-minute Men's Cleansing Facial to help nourish and moisturize the skin. $175 (reg $245)
PAPI PACKAGE 3 (60 min): We've got just the right package for the dad who is always crunched for time. All his worries will drift away during his stress-free 30-minute soothing massage. Then he'll finish up with a 30-minute Men's Express Facial which will help smooth his complexion and boost his confidence. $100 (reg $140)
#Facial #dad #fathersday #DTLADaySpa #dayspa #LosAngeles #father #celebrate
By submitting this form you agree to be contacted via phone/text/email.
By submitting this form you agree to be contacted via phone/text/email.