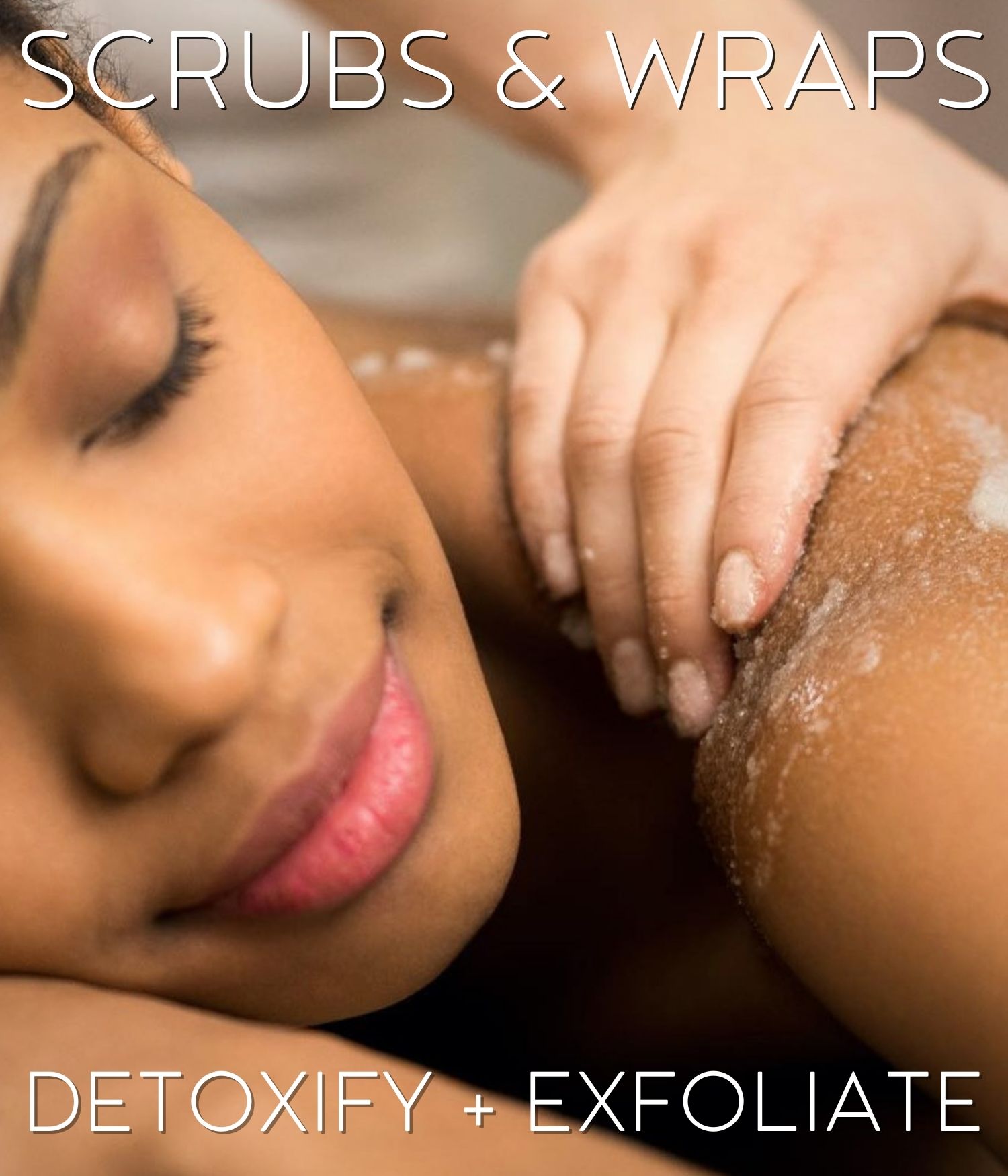 SCHEDULE SCRUBS & WRAPS CONSULTATION​
By submitting this form you agree to be contacted via phone/text/email.
Thorough body exfoliation is a wonderful way to rid the skin of dead dry cells. Doing so helps the skin absorb nutrients more efficiently and creates a smooth, glowing appearance. After the skin is deeply cleansed and revitalized with marine salt crystals and algae oils, a final application of quenching moisturizers will leave your body radiant and tingling with renewed life.
Vegan TeaTox By SpaRitual 100% Vegan & Cruelty-Free
In this Earl Grey treatment, you will experience a purifying full body gentle exfoliation with Activated Charcoal and organic coconut sugar (non-GMO) to deeply purify, smooth and soften the skin. This treatment will encourage blood circulation and promote skin renewal. Followed by an intense hydration recovery with an Earl Grey Oil Salve.
Teatox Wrap By SpaRitual 100% Vegan & Cruelty-Free
The Earl Grey Teatox Body Masque is a black zeolite mud mask, with activated coconut charcoal and anti-oxidant rich black tea extract. It helps to naturally detoxify the body. We begin the treatment with a Lymphatic dry brush that prepares your skin for a completely hydrating and detoxifying wrap. While you're cocooned in our Vegan, Activated Charcoal Teatox body masque, our Therapist will treat your feet to a surge of moisture with Earl Grey Oil Salve and a scalp massage. Your experience concludes with an application of our Earl Grey Body Soufflé lotion.​
The M'lis Professional Contour body wrap helps to free and remove trapped waste in the connective tissue, eliminate internal disfiguring deposits and stimulate inch loss. This is not a temporary water loss wrap. Inch loss of 4"-14" is guaranteed. M'lis' Contour Body Wrap that offers permanent inch loss (not caused by excessive sweating). You're wrapped up there is no sweating you are actually flushing down toxins and fat! First your skin is exfoliated with a scrub, then the treatment cream is applied and a special wrapping technique is used to help firm and lift the "trouble areas". The wrapping also plays a role in enhancing lymphatic drainage.
The Contour Body Wrap was originally developed by a UCLA biochemist to enhance circulation and lymphatic flow in patients with diabetes and other chronic diseases. Further research revealed that the wrap not only increased circulation but also cleansed the tissue which resulted in healthy inch loss and smoother skin. The Contour Body Wrap is a complete detoxification system for internal and external cleansing, cellulite reduction and inch loss. This body wrap system has been around for over 30 years which is further testament to its efficacy
Like most holistic treatments, a series of body wrap treatments is more effective than just one (ideally 6 treatments). You probably wouldn't want to do more than 1 treatment per week. The inches will only return if the client goes back to old habits. Eating the right types of foods, proper exercise, and drinking 8 glasses of water per day are always recommended.
There are also a few awesome take home products to compliment the treatment and extend results.
60 min $140

Pre-Purchase a 6-Pack for $700 save $140! (Includes measurements first and last visit)
Remineralizing Wrap (Anti-aging, firming after weight-loss or childbirth, post-sun – Eco-Friendly & Waterless)
During this anti-aging and detoxifying body wrap, every detail is looked after while cocooned in firming body gel, rich in anti-aging sea minerals. Skin toning extracts are absorbed as you receive a soothing massage to penetrate all of the firming elixirs to immediately hydrate, tighten, and stimulate the skin. After repeated use, a long-term anti-aging effect will be noticed on skin lacking elasticity due to childbirth, sun damage, or significant weight loss.​
For tight muscles, joints, and tendons an intensely active marine mud will soothe sore tissue while toxins are drawn from deep with in. This treatment leaves your body detoxified, remineralized, and fully oxygenated. Awake from relaxation to a refreshing shower and an application of rich body cream, which leaves the surface of the body as beautifully transformed as the inside
Contact us for your consultation today with Desuar Spa. Conveniently located in Downtown LA and Hollywood, Desuar Spa is a place where you can spend an hour of your time experiencing an amazing high-end therapeutic, skin, or body treatment. Call us at 213-265-7908 (DTLA) or 323-371-4556 (Hollywood) to schedule your consultation today.
SCHEDULE SCRUBS & WRAPS CONSULTATION​
By submitting this form you agree to be contacted via phone/text/email.
SCHEDULE SCRUBS & WRAPS CONSULTATION​
By submitting this form you agree to be contacted via phone/text/email.