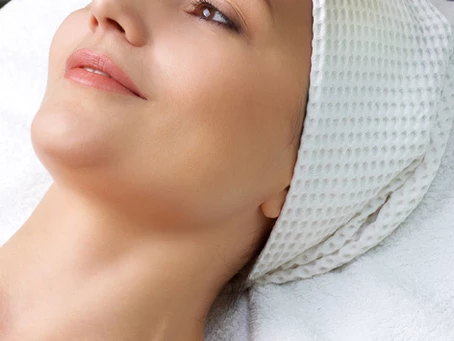 Less than two weeks ago we officially entered the Autumn season! A change in seasons also means a change in personal care routine. Fall is indeed one of my favorite times of year! The air is crisp and fresh, and there is a sense of new beginnings. But along with this season's change also come changes with our complexions. Between the shift to dryer, dehydrating weather and stress from back-to-school/back-to-work adjustments, our skin and bodies are easily devitalized. This is why so many facial clients experience skin imbalances during autumn such as; dry patches, flakiness, and eczema flare ups. Luckily, there are many facial treatments available at DESUAR Spa that our skin can benefit from to autumn-proof our skin like our popular Renew Deep Cleansing Facial, the Hydrablue Plumping Moisturizing Facial or the Ocean Brightening Facial. Read more here.
Combat Dry Skin with a Facial
DESUAR Spa is proud to offer highly effective dry skin therapy. Dry skin refers to the amount of oil we produce within the skin. Many people associate dryness with dehydration. However, if the oil levels within your skin are correct, the water content of the skin is almost always healthy. Here at DESUAR Spa we use the best marine-based natural products from PHYTOMER to give result oriented facials targeting the skin's specific dryness condition. Our facials for dry skin will boost oil levels within the skin. PHYTOMER creamy milky cleansers are used to begin the process of softening the skin and increasing lipid levels.
I recommend using Phytomer Perfect Visage Gentle Cleansing Milk for its creamy, non-greasy milk that gently cleanses without disturbing the skin. Delicately removes makeup and surface impurities and provides moisture to the skin, which helps combat dryness. It is available for purchase online, or in-store.
Exfoliants such as lactic acid, glycolic acid, and enzymes help to slough off the upper, dry layers of the skin. This creates a smooth feel to the skin and increases the efficacy of the active ingredients applied afterward. Facial massage is a great tool for aiding in the uptake of serums and masks as well as lubricating the surface. Massage also activates the skin and encourages circulation. Lipid rich moisturizers help to create a healthy barrier for the skin.
Combat Fall Stresses with a Massage
Also, we understand how our body can generate stress, or gets stiff and numb from driving long hours during heavier rush-hour traffic due to higher traffic volume at the beginning of the Fall/Autumn season. And, for this we recommend either a deep tissue or Swedish massage that virtually melts stress away, relieves tension spots and increases circulation. Additionally, returning to our gym routine can make us sore and cause muscle pain all because the body is adjusting again. We can help your body recover faster from working out with our sport or deep tissue massage therapies that are designed to relieve severe tension and reach below the superficial muscles and enhance your workout performance. Read more about our massages here.
By submitting this form you agree to be contacted via phone/text/email.
By submitting this form you agree to be contacted via phone/text/email.