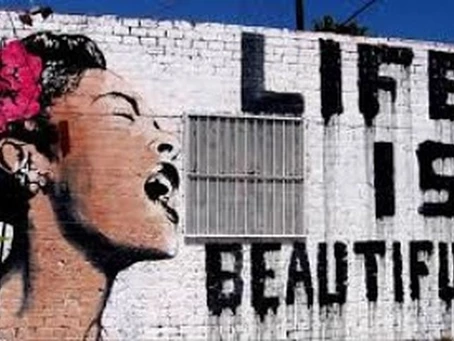 Pamper Yourself (Inside and Out) in DTLA
There is no question that Los Angeles is the place to find a balance of work, social life, beauty, and stillness. The summer has officially arrived, and we encourage you to make your way to Downtown Los Angeles to indulge in some self-care.
Whether you're out for a day of pampering, on your lunch break at work or releasing tension from a long week of classes, we encourage you to visit our little mecca. From chic nail salons to calming mindfulness studios, DTLA offers something for everyone. We're spotlighting a few of our amazing neighbors in DTLA that similar to DESUAR, provide quality services for your holistic self-care.
300 S. Santa Fe Ave. Sute i. Los Angeles, CA 90013
If you're seeking a unique mani/pedi experience, Nailbox LA is your place. Nailbox LA is located less than 10 minutes from DESUAR in the heart of DTLA's Art District. Whether you're in the mood for a classy-chic look or want to spice up your nails with funky art, Nailbox LA can cater to your needs. Nailbox LA thrives in its creatively designed space, with a care for the client and environment using organic and less harsh traditional products. No need to worry about the stress of parking downtown while visiting, Nailbox LA offers free parking in main parking lot with validation.
Price Range for Nail Services: $20-$70
MEDITATION, THE MYSTIC REBEL
453 S Spring St, Suite 641, Los Angeles, CA 90013
The Mystic Rebel may be new to the downtown area, but they are here, present and ready to help make your life a little easier. The Mystic Rebel offers a variety of open and private meditation, yoga and healing classes throughout the week to fit not only your needs, but your busy schedule. Founding owners Ashlee Langas and Julia Albain created a space centered in a love for art, wellness, mindfulness, self-love and peace.
In addition to their services, The Mystic Rebel has introduced their Pay It Forward Program. For those that have a little extra cash to spare, donations can to be made to those whose circumstances may hinder them from taking advantage of Mystic Rebel's services and being their best self.
Price Range for Classes: $20-$150
Upcoming Event-
Reiki 2 Training @ The Mystic Rebel
Saturday, July 1st 12:30pm-6pm
440 S Main St 
Los Angeles, CA 90013
Curt Darling Salon is not your average hair salon, it's a brand. Located less than 5 minutes from DESUAR, Curt Darling Salon S. Main Street is one of two locations in the Los Angeles area. Curt Darling Salon specializes in the "Darling DryCut," which is described as the highest quality haircut. The Darling DryCut makes the hair easy to style and does not require a salon blow out to accompany the cut for style. Curt Darling salon welcomes all – curly, straight, long or short hair. Allow the Curt Darling team to style your hair with one of their color, extensions or blow out services. If you're hair needs a little extra attention, take advantage of Curt Darling's No. 4 Conditioning Treatment.
Price Range for Services: $30-$350
SPA, DESUAR SPA, LOS ANGELES
215 W. 5th Street, Los Angeles, CA 90013 Ste. 1209
DESUAR Spa is the touch you need. At DESUAR, communicating with your body means listening with our hands. We offer a plethora of massage, body treatment, facial and wax options. DESUAR is the perfect day spa to help you keep the balance in your life. 
For the month of July stop in for our special promo "Wax On, Wax Off!" and get 15% off any face or body waxing. Offer valid the entire month of July.
Book online and mention promo code: WAX15Keep up to date with all things DESUAR and updates on the opening of our new location! Follow us on Instagram and Twitter and like us on Facebook!
Price Range for Services: $10-$175
By submitting this form you agree to be contacted via phone/text/email.
By submitting this form you agree to be contacted via phone/text/email.