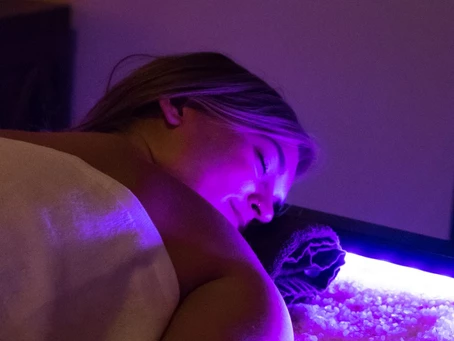 Get a Fabulous Array of New and Exciting Marine Treatments Available at DESUAR Spa
At DESUAR Spa, we're all about giving clients an optimum spa experience. And our new range of exciting marine-inspired treatments is proof of just that.
Join us in downtown Los Angeles for the most exclusive Spa services in the business. There's a treat in store for each and every one of you out there.
Get the ultimate form of deep relaxation and soothing feelings with our newly introduced Ocean Spume Massage therapy. You can enjoy a holistic ocean experience as your body is treated with an array of luxurious natural ingredients.
The treatment is comprised of a self-heating mud wrap that works to rid the body's surface of toxins, dirt and debris. Then, this is followed by a rejuvenating massage that works to rid tight muscles of their tension, directing subtle strokes to various pressure points present on your body.
This 100 minute treatment uses natural ingredients in the form of enriching seawater and nourishing sea plant oils that leave you with skin that's smooth, hydrated and soft for days.
Relive the memories of the tropical ocean. DESUAR Spa introduces the Gems of the Sea massage, full of an array of benefits. The massage works to rid the body of the feelings of stress and fatigue, while hydrating your skin like never before.
This mesmerizing treatment begins with a Remineralizing Bath Soak in our copper tub. Followed by a captivating lymphatic massage using a relaxing Elixir. This works to relax tense muscles, and increasing blood circulation to areas where you need it the most.
Seaside Relaxing Radiating Massage
Similar to a dip in the ocean, the Seaside Relaxing Radiating Massage takes clients on a immersive sensory experience. This body balancing massage therapy by DESUAR Spa begins by treating your body to a thorough exfoliation, leaving it with a smooth and radiant appearance. This is followed by the a relaxing massage, including the use of a Relaxing Elixir, where your muscles are eased of any tension and stress build up.
Have a headache but are tired of resorting to medication? If you answered yes to that question, we've got the perfect massage therapy for you.
Our Ocean Crest Head Massage makes use of the finest marine infused Phytomer products that alleviate head, neck, shoulder and sinus related ailments. The products also promote better blood circulation and improve hair growth too. Relax and unwind as we pamper you in a manner never witnessed before.
Take advantage of the natural goodness of Himalayan salts as you unwind in the greatest manner possible. It's truly a phenomenal experience as you benefit from the use of both Chromotherapy and Halotherapy to restore your body's health and vitality the right way.
Sea Scrub and Satin Shimmer Scrub
Rid your skin of harmful toxins and impurities with an array of the best sea derived scrubs in downtown Los Angeles. Our exfoliating and mineralizing Sea Scrub and Satin Shimmer Scrub work towards giving your skin a radiant, hydrated and fresh appeal. We'll make sure you get the right kind of attention whenever you step out and about in town.
Awaken to a captivating and refreshing body treatment at DESUAR Spa with our Sea Foam Wrap. Derived from an active marine mud, we'll make sure your body rids itself of sore and tight muscles, leaving it oxidized and remineralized like never before. It's the ultimate form of natural detoxification available today.
#oceaninspired #marineinspired #facialinDTLA #newtreatments #DaySpaSkincare #LosAngeles #massagenearme #beauty #spanearme #phytomer #healthy #SwedishMassage #DTLA #pampering #dtlaspafacial #naturalingredients #spapackages #dayspa #downtown #SpaDay #dayspanearme
By submitting this form you agree to be contacted via phone/text/email.
By submitting this form you agree to be contacted via phone/text/email.