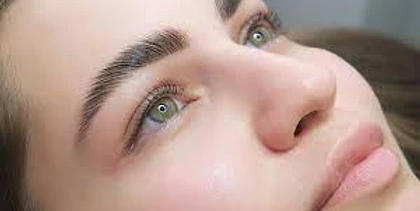 BROW LAMINATION - What is it?
A quick glance at the word lamination would get you thinking about the process of applying a thin layer of plastic to paper to protect some important printed matter. Not this time. Brow lamination is the latest brow trend that originated in Russia and is rapidly spreading to the west. It is a contemporary technique of making a full, slicked-up brow with a high-shine finish. This is the answer for unruly or thinning brow hair where brow lamination smooth it out while also lifting the hair in a more vertical line resulting in super smooth brows that look like you have brow gel on them.
Brow lamination has become the ultimate solution for those brow troubles like overplucking, thinning, gaps, and unruliness. It is also an amazing alternative to the tattooing technique, thereby avoiding those small handheld tools made of tiny needles that are used to put semi-permanent pigment into the skin.
This new technique can give you the kind of brows you have always wanted in just less than an hour. This method is excellent for people who want their thin brows to appear fuller and fluffier. It is also the best way to conceal the small gaps and give the appearance of major hair growth. The big advantage of this is it is noninvasive thus there is no breaking of the skin. It is also temporary so you can undo or wait for it to be gone. Most of all, it is an impressive option to fix your eyebrows in an inexpensive way.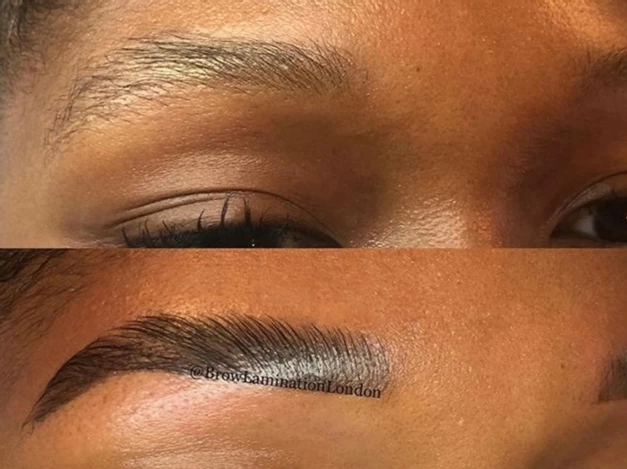 It is becoming a popular trend especially with those in their 30s to 50s who have lost a lot of brow hair, either through illness, the natural aging process, or just over waxing. Brow experts in England are raving about the dramatic results it can create. Many British celebrities are evidence of this and if you scroll through the hashtag #browlamination, most originated from there. One of the pioneers of this treatment in London stated that they were able to recreate a client's brow without the use of needles or make-up. Not only that, they can raise a client's arch, extend their tails and give them a fuller brow by lifting the brow hair or giving them a messy, fluffy brow.
Brow lamination is primarily a perm for your brows. A setting lotion helps the brow hair stay brushed and lifted upward for about one month and a half and sometimes it can last up to two months. The actual process starts by brushing a lifting cream onto the brow. This step will generate a chemical process that will break down bonds in each hair, letting them move into a new shape. Then, the brow hairs are brushed up into place and a neutralizer is applied. This will reform the bonds into their new shape. A nourishing oil is also put onto the brows to restore their moisture after the chemical treatment. Following the treatment, the brows may be waxed, plucked, or tinted depending on the look the client wants.
This procedure requires special care and attention so be careful with the skincare products that you use especially if you are prone to irritation from chemicals. Avoid the possibility of getting these chemicals in contact with your eyes. Furthermore, brow lamination could harm your brow hairs themselves especially from overprocessing. Just remember to keep the health of your brows, including your eyes always.
By submitting this form you agree to be contacted via phone/text/email.
By submitting this form you agree to be contacted via phone/text/email.