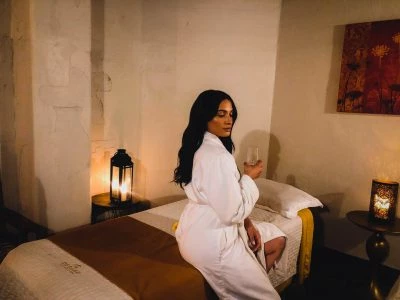 Come See Us For The Best Happy Hour In Town!
That's right! Your favorite happy hour starts June 17 and you won't want to miss out. Every Monday through Friday, from 10 am to 4 pm, we will be offering three spectacular services at discounted rates. We know how difficult it is to choose just one revitalizing treatment, so we are excited to announce that our fantastic clients will be able to take advantage of these happy hour rates all summer! This will give you the opportunity to experience each of the discounted services at your convenience.
HAPPY HOUR DEAL 1. A 50-minute Swedish massage will help to relieve stress and tension while also increasing circulation. $70 (reg $115)
HAPPY HOUR DEAL 2. This mild 40-minute Marine Pore Cleansing Facial exfoliates and opens the pores to get a deep clean like you've never experienced before. This treatment is designed to manually extract blackheads, whiteheads and other skin impurities and is finished off with a moisturizing hydration mask, leaving the skin feeling soft and nourished. $70 (reg $90)
HAPPY HOUR DEAL 3. With a 50-minute Deep Tissue massage from DESUAR spa, your pain and problem areas will be targeted and soothed with slow, guided strokes and firm pressure. This is a stronger, more intense massage and can be extremely beneficial for those who have suffered from injuries, as it promotes healing and relief for stiff muscles. $80 (reg $125)
#Facial #stressfree #oasis #DaySpaLosAngeles #DTLADaySpa #massage #treatments #spa #special #happyhour #dayspa
By submitting this form you agree to be contacted via phone/text/email.
By submitting this form you agree to be contacted via phone/text/email.