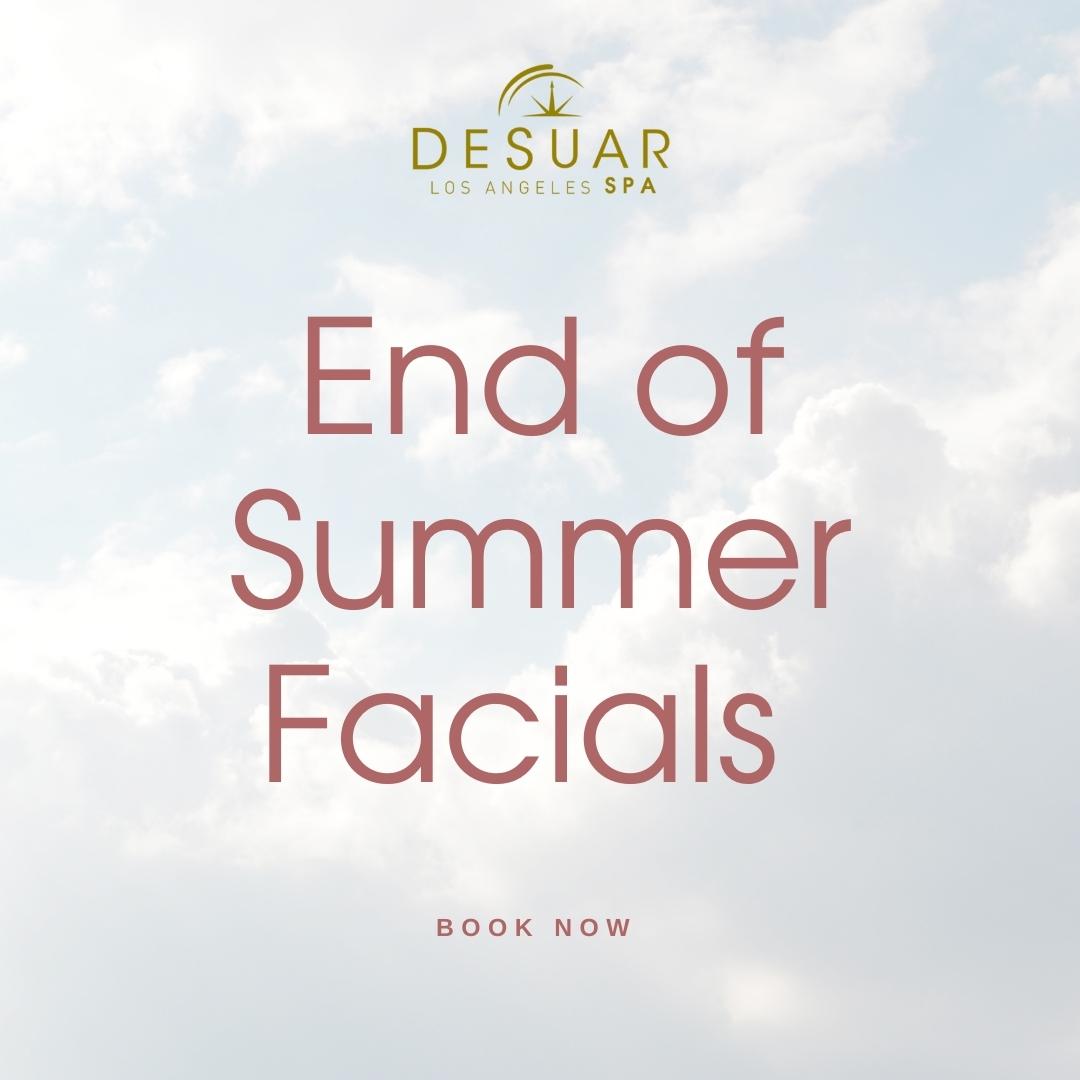 When Labor Day comes around it signifies the end of Summer and the time to transition our closet (no more white clothes after Labor Day!) and our skincare routine for the Fall months. During the Fall, our skin gets more sensitive, dry, and reactive. Keeping your skin hydrated and plump as well as keeping your skin clear starts with the proper skincare regime and regular spa facials.
During these transition months into the colder winter when dehydration in the skin becomes the primary concern of our spa clients, we recommend a few of our Desuar Spa's most popular facial treatments for extra glowy, healthy and clear skin after just one visit.
For those with sensitive, dry or mature skin looking for anti-aging, hydration, and brighter, more plump skin, we recommend coming to Desuar DTLA for the Hydrafacial. Hydrafacial is an expedited facial treatment that uses the latest technology to deliver various skin benefits. The treatment begins with a cleanse by one of Desuar Spa's master estheticians and is followed by the Hydrafacial Syndeo treatment of exfoliation, and serum infusion to increase hydration and protect the skin from free radicals and sun damage. After the Hydrafacial, we provide LED Light to calm the skin from inflammation, and redness and to speed up collagen production in the face for anti-aging skincare benefits. Hydrafacial has many benefits including clearing clogged pores, refreshing the skin by adding nutrients, and even Lymphatic Drainage. You may also add on special treatments like PERK for your lips or under the eyes for a more advanced facial treatment. Get rid of your undereye bags and add extra hydration to dry lips during the cold season with Perk. For more information about the Desuar Spa Hydrafacial Syndeo, click here.
Clients with acne-prone skin should book a visit for PlaSon, an acne-clearing wonder machine.  PlaSon uses advanced plasma technology to treat acne by removing bacteria and aiding in transdermal absorption within the skin. And, it stimulates skin regeneration and boosts collagen for clearer, healthier, firmer skin. PlaSon will get rid of active acne, significantly reduce sebum production, and treat acne scarring and unwanted skin pigmentation. This acne-prone skin treatment is non-invasive and you will leave with immediate and glowing skin. Desuar Spa offers this amazing acne treatment, book your visit for clear skin by clicking here.
Another client favorite is our Desuar Spa Signature IS Clinical Fire & Ice Facial. If you want glowing, hydrated, and plump skin in just one visit, we recommend the Fire & Ice Facial. This facial uses clean, science-driven skincare by IS Clinical for an amazing, celebrity skin treatment.  Sometimes called the "Hollywood Facial", Desuar Spa Fire & Ice Facial is a facial treatment consisting of two heated face masks. The first one aims to release and remove impurities out and resurface your skin through heat, while the other heat-infused mask is hydrating to soften the look of fine lines and relax you with self-heating mineral energy stimulating the skin's natural processes of hydration, vasodilation, and drives the performance of skin care products.
With the many anti-aging benefits of regular facials, we recommend that clients book a facial monthly or at minimum, once per season to reset their skin and treat skin inflammation, reactive skin, and dimmish signs of aging. Book your appointment today by clicking here. Desuar Spa has locations in DTLA Downtown Los Angeles, Sunset Blvd in Hollywood, and Monterey California in the Casa Munras Hotel & Spa. Desuar Spa also has massages, bath soaks, LED Light Therapy, a locker room, and a sauna for clients to use.