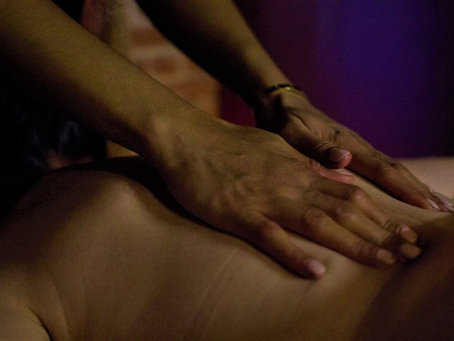 Incorporate The Right Massage Into Your Life
If you're looking to relax after a stressful week at work, ease tension & pain in your body, repair muscles from an injury or working out, or just looking to feel great from the inside out, a massage is definitely the way to go. To achieve the best quality service and remain safe from potential injuries, it is always recommended that you seek a licensed professional for a massage.
There are a variety of services and styles when it comes to massages. It is also important you speak with your therapist to determine which method is best for you. We've put together a list below to give you a little background on a few of our massage services at DESUAR.
Suffering from major tension and muscle knots? This style of massage may be for you, if you don't mind the extra pressure. Although this massage is a deeper and more intense massage, this technique uses slow, deep-guided strokes and firm pressure designed to relieve severe tension and reach below the superficial muscles & focus on the deepest layers of muscle tissue, tendons and fascia (the protective layer surrounding muscles, bones and joints). It can address the specific needs of an active person or athlete, or can help promote healing after an injury, or enhance your performance by releasing chronic muscle tension. A deep tissue massage can alleviate pain, assist with mobility, reduce osteoarthritis symptoms, lower blood pressure and relieve stress.
The Swedish massage is the most common massage offered at most spas and wellness centers. The Swedish massage is a combination of Western concepts such as Anatomy and Physiology. The premise of the massage is to relax the entire body. There are five basic strokes used in Swedish massage therapy; effleurage, petrissage friction, tapotement, vibration. Its benefits include easing muscle tension, help with sleep disorders, relieve stress, decrease muscle toxins, increase flexibility, increase oxygen in the blood, and increase circulation.
Aromatherapy is great for your overall psychological and physical well-being, and can be added to any of our massage styles to further enhance the benefits. Aromatherapy is performed using essential oils, also known as scented plant oils. These oils are extracted from flowers, bark, stems, leaves or roots. Essential oils are known to bring healing to the body and stimulate bodily functions. Oils such as lavender have been proven to calm the body, even improving sleep, eucalyptus has been shown to have anti-inflammatory, antibacterial, and decongestant effects, and Ylang Ylang has demonstrated antidepressant, antiseptic, aphrodisiac, and hypotensive benefits.
Along with the common massages listed above, we also we offer several other specialized services to fulfill whatever specific needs your body has:
Prenatal Massage – If you're a mother-to-be our Prenatal Massage can assist with bodily discomforts as a result of pregnancy. We utilize a specialized prenatal massage cushion with a patented design to provide ultimate support for pregnancy massage, breast discomfort, or lower back pain during face-down massage treatments. 
Cellulite/Slimming Massage– Our Morpho Designer Perfect Contour Massage is designed to firm, reshape and boost fat burning in the skin. This service is combined with a scrub that will display results after 60 minutes. (For best results, we recommend 5 sessions) 
Reflexology Massage applies pressure to the feet and hands with techniques first documented by the ancient Chinese and Egyptians. Although the massage focuses on the hands and feet, reflexology has great, relaxing benefits to the entire body. Some of the benefits of reflexology include its ability to stimulate nerve function, increase energy, boost circulation, prevent migraines, reduce depression, and relieve pain. 
Still not sure which treatment is best for you? Contact us today for a consultation at desuar.com or 213.265.7908.
By submitting this form you agree to be contacted via phone/text/email.
By submitting this form you agree to be contacted via phone/text/email.