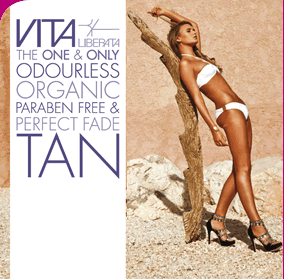 Glow this Fall with Spray Tan by Vita Liberata
The cooler weather doesn't mean that you have to get rid of your glow. In fact, spray tanning is not just limited to the summer season. At DESUAR Spa you can glow all year round with the famous Spray Tan by Vita Liberata.
A favorite of the industry's biggest names such as Kim Kardashian, Gwyneth Paltrow, Beth Behrs, and more, Spray Tan by Vita Liberata was created by women for women. It is a brand that aims to provide innovative ways to get the color you want without having to expose yourself to the harmful effects of the sun.
In the old days, the only way to get the warm golden sun kissed glow was by literally spending all day under the sun until you were a beautiful golden brown.
Today there are many ways to get that gorgeous tan without exposing yourself to the harmful rays of the sun.
Spray tanning was first introduced by Eva Wittgenstein, a researcher at the Children's Hospital Ohio, when she was experimenting with the use of high doses of orally administered DHA liquid to treat children with glycogen storage diseases. Soon tanning had migrated into tanning beds, although they are no longer recommended since it is widely accepted to increase the risk of developing skin cancer.
This is the reason why spray tanning has become a better alternative, particularly Vita Liberata Spray Tan that features organic ingredients that are beneficial for the skin.
Ingredients include Aloe Vera, Licorice, Glycerin, Bladderwrack, Hydrolysed Silk, Gingko Biloba, Lychee, Melon, Raspberry and Tocopheryl Acetate. These ingredients improve the skin's firmness, hydrate, and soothe the skin. It also provides anti-aging benefits. With all these benefits – you can keep your skin glowing and still look as young and as radiant as ever.
#organictan #pureandnatural #skincareDTLA #beautifulskin #Spraytannearme #LosAngeles #beauty #spanearme #SprayTanning #healthy #organictanning #VitaLiberata #DTLA #dayspa #downtown #dayspanearme #SprayTan
By submitting this form you agree to be contacted via phone/text/email.
By submitting this form you agree to be contacted via phone/text/email.