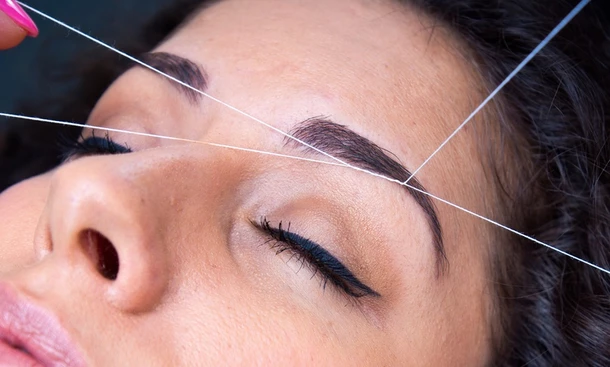 BROW THREADING - Little Pain, Big Gain
Brow threading is a brow removal technique that has originated and practiced in India and Central Asia for many centuries. It has gained popularity in western countries in more recent times especially when coupled with other cosmetic applications. This technique has afforded people with an alternative to tweezing and waxing. In threading, a thin polyester or cotton thread is doubled then twisted, then rolled over areas of unwanted hair at the follicle level. After holding onto the hair, it is pulled out, root and all. Unlike tweezing where hair is removed one at a time, threading can remove short rows of hair at once. Threading can also be used in removing unwanted hairs on the upper lip areas or the entire face. However, it is not advisable for other parts of the body as the hair on those areas is too much to remove and is typically coarse.
The biggest factor that scares many from threading is how much it hurts. It is suggested that you ask your threading tech to try it on the fuzz on the back of your hand to give you an idea of how it feels. Threading requires precision, so go for a specialist for the best results. In contrast to waxing where it removes any swath of hair it comes in contact with, the threading specialist has greater control over which hair to remove. Even the tiniest hair can be removed thus no unwanted hairs are left behind. Because of this, they will grow at the same time, so there is no need for tweezing stray hair every day. This allows for a more natural look, as the technique enables you to keep or remove hair which makes a perfect shape every time.
This is basically a quick process, so most professionals do the whole thing in about ten minutes, lesser time if your brows are already in a good shape. The eyebrow threads last on average between two to five weeks, you can also maintain the look for a longer time with touch-up appointments that are not as intensive as a full-scale brow shaping. A full eyebrow threading will not cost you that much since it is usually in the same price range as eyebrow waxing. The touch-ups would be much lesser or even free when it's a part of a package deal.
Some dermatologists warn about some health risks involved in brow threading. If dirty threads are used and there is broken skin, there might be a potential spread of the herpes virus and staph infections. It is important to be handled by an experienced stylist to avoid any damage to your skin. Since the cotton thread is rubbing against your skin, it can still cause some redness and minor irritations, especially on very sensitive skin types. That is why the service is usually followed up with a cooling gel such as aloe vera, rose water, or tea tree gel which helps soothe the skin, calm the area, and remove any redness quickly.
Brow threading is the perfect temporary solution for hair removal and unlike other methods, it does not involve using chemicals. Moreover, it is less painful as compared to waxing and plucking, long-lasting, and affordable. Perhaps the biggest benefit that threading has over other procedures is its ability to shape eyebrows with remarkable accuracy. It allows your stylist to perfectly shape your eyebrows according to your preference.
By submitting this form you agree to be contacted via phone/text/email.
By submitting this form you agree to be contacted via phone/text/email.