Therapeutic skin and body treatments offered in a luxury spa setting. 
DESUAR combines aesthetics and wellness for overall rejuvenation.
The ultimate spa destination in Downtown LA. Featuring eight spacious treatment rooms, a relaxation room, quartz sand, soaking tubs, and a sauna.
The ultimate spa destination in Hollywood. Featuring Seven spacious treatment rooms, a relaxation room, retail area, and free parking!
The premier spa destination in Monterey. Featuring Four spacious treatment rooms, including a large couples suite with double shower, relaxation areas, retail area, and beverage/snack bar.
CoolRestore Body
Contouring
Zemits introduces cold therapy to targeted areas of the most concern to reduce fat deposits and slim and contour the area. Non-invasive and provides stunning results.
Endospheres
Cellulite Reduction
This therapy uses a Compressive Microvibration™ roller device that generates low-frequency vibration. It improves muscle tone, skin tone and reduces cellulite.
This resurfacing facial is a beautiful all-in-one way to care for your skin. HydraFacial® cleanses, peels, extracts, unclogs, and hydrates the skin for instantly glowing skin.
At DESUAR, we show you the skin you already have, at its very best. Choose from one of our many facial options designed to brighten, renew, and clear congested skin.
The most sought after form of relaxation. Your muscles receive the attention they deserve. DESUAR spa specializes in giving the most sought after massages in L.A.
Detoxify, exfoliate, and improve circulation with our signature scrubs & wraps. Often used to prepare the skin for other spa services such as massage or hydrotherapy.
Give the gift of beauty and wellness with a gift card to DESUAR spa. Our gift cards make the perfect gift for birthdays, holidays, corporate gifts, or just to show your appreciation.
Your family and friends can choose to apply their gift card to any of our spa offerings, including massages, facials, rejuvenation therapies, or body contouring treatments. Call either location, and we can assist you in selecting a value for your gift card or booking a specific service.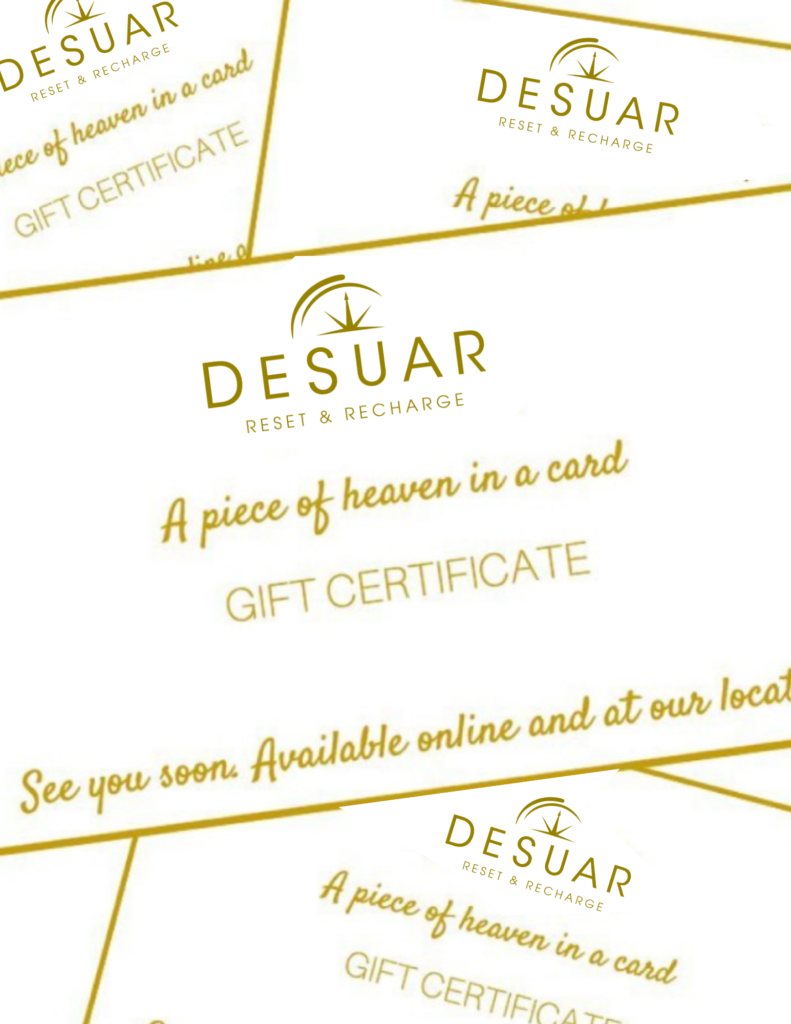 Enjoy the benefits of massage, facials, and spa treatments as often as you like with our new Series Discount Program. Get renewed and refreshed whenever you want, and save money at the same time..
Create the ultimate day of relaxation and rejuvenation with one of our specially curated spa packages.
Our perfectly paired treatments combine the best of aesthetics and wellness.
Deisy Suarez-Giles is the founder of DESUAR Spa in Downtown LA, CA. Having originally entered the beauty and wellness industry more than 16 years ago as a makeup artist in NYC, her passion started years earlier as a child who made scrubs and mud masks in the kitchen sink.
A wife, and mother of 2 young sons, Deisy is also a speaker, philanthropist, author, content creator, and animal lover. Deisy has been featured in Forbes, LA Magazine, Zoe Report, Voyage LA, Spa Insider, Well and Away, DTLA Weekly, DTLA Life, Coast to Coast, Style & Society, and MTV.
OUR PHILOSOPHY: BALANCING MIND AND BODY
DESUAR is a private day spa incorporating a philosophy that is fundamental to the human experience, the quest for a balanced lifestyle. Balancing mind and body creates a new state of mental and physical health, beauty, and self-esteem. DESUAR Spa offers healing as well as high-end relaxing treatments. Our slogan is "Where communicating with your body means listening with our hands." At DESUAR Spa, we treat you like royalty.
A member of our team will contact you and answer any questions you may have.
By submitting this form you agree to be contacted by phone/text/email.