Best Spa Packages for Father's day 2022
Give your Father a break this year! He works hard all year long providing for the family, so treat him well this Father's Day with the gift of guaranteed relaxation. Show him how much you value & appreciate him with a getaway to the spa. These packages are bundled, discounted, and sure to elicit smiles from Dads everywhere. The packages and promotions are available from the 1st to the 30th of June.
Well, it's time we cut our dads some slack! 
50 minutes of CBD Infused Sport Deep Tissue Massage + Foot and Hand Scrub.
Refresh Dad's body and soul with this premium package!
Incorporating cannabidiol, commonly known as CBD, with a therapeutic massage is a natural combination. The properties found in CBD provide relief to those experiencing pain and muscle tension.
What exactly is CBD?
CBD is extracted from the cannabis plant but does not contain the psychoactive drug THC (tetrahydrocannabinol). It has no narcotic effects, and it should not be confused with marijuana. CBD products are sold in a variety of forms, including massage oils.
When combined with therapeutic massage, clients report that they feel even more relaxed than with a massage that incorporates traditional oils and lotions. Studies show that when applied topically, CBD decreases inflammation and pain.
CBD oil works much like regular massage oil. CBD is mixed with a carrier oil – the oil that is used to lubricate the skin. Not only does CBD relax the body during a massage, people report they feel more relaxed throughout the day and often into the nighttime.
This also comes with a feel of our warm, tender touch. Let us knead your hands, toes and soles as every nerve screams a message of healing joy to the other parts of your body. The tingling you will feel—everywhere—is perfectly normal, and you'll never want it to stop. Get this at Desuar Spa
80min of  Aroma Infused, Customized Massage + 30min Hydrating Facial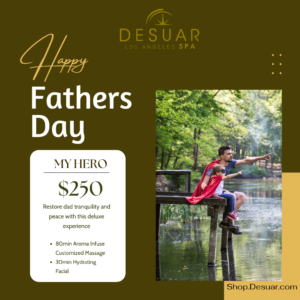 Restore dad's tranquility and peace with this deluxe experience!
Uses fragrant oils extracted from herbs, flowers and fruits to naturally enhance the benefits of massage.
Both massage and aromatherapy are known for their potential benefits for body and mind. Aromatherapy massage combines the two to achieve psychological and physiological well being. Given the range of massage techniques and the variety of essential oils you can use on clients, aromatherapy is another way to create more personalized health and well-being outcomes for individuals, according to their health background.
If you have dry, irritated skin and all the moisturizing in the world isn't working for you – a Hydrating Facial is something to consider.
BENEFITS OF A HYDRATING FACIAL
Another reason to love this facial – especially if your skin doesn't react well with facials in general – is this one is suitable for all skin types (even the sensitive ones!)
Here are 5 benefits of a hydrating facial your face will love —
Hydration = Less Irritation – moisture is locked in with this facial and allows the skin to heal and repair over time. Say "buh-bye" dry, flaky, irritated skin.
Improved Skin Tone & Texture – exfoliation does its job without stripping your face of necessary moisture and oil. With dead skin cells gone, your skin tone and texture reveal a smooth, even surface.
Bright & Supple Complexion – that hydrating serum works its magic and aids in moisture retention, balance, and circulation. This gives way to skin that's full and bright.
Decreased oil (in excess) & breakouts – too much oil and you're prone to Too little oil and your face is begging for moisture. This Hydrating Facial balances and regulates oil production on your face, so you feel more like you're treating your face than servicing your car.
Enhanced Skin Care Product Absorption – because your skin has been cleansed, toned, exfoliated and protected with this facial, the absorption of skin care products on your face will be easier to penetrate the skin. Better absorption means your skin care products have a better chance of working and supporting your skin.
Get this at Desuar Spa
25min CBD Body Polish + 50min Firm Massage +40min Relaxing Pore Cleansing facial +25min Soak Experience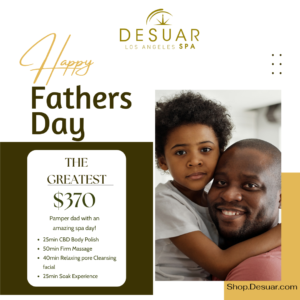 Pamper dad  with an amazing spa day!
This is the ultimate treat!
Massages are not just for pampering. They are an important addition to everybody's personal wellness program. Studies have shown that massage is an effective way to reduce stress, pain and muscle tension. Research has also found massage can be helpful in treating many sports injuries and soft tissue strains along with joint pain and so much more.
A mild deep pore cleansing facial is what every Dads need to exfoliate & steam the skin and open pores. Manually extracting blackheads, whiteheads, and other skin impurities. Followed by a hydrating, moisturizing mask to refresh and hydrate the skin. ​
Soak also helps Dad relax and unwind from his busy and hectic life. With sea salt and other essential minerals to help his body release tensions and detoxify.
Ingredients: Approximately 100mg of CBD blended with Sea Salt and other minerals, bubbles, cannabis essential oil. This soak utilizes "full-spectrum" CBD and might contain traces of THC ( <0.3% by weight).
Benefits: Detoxify, stimulate circulation, reduce inflammation and deep muscle soreness, calm the mind and body.
The celebration of Father's Day reminds us about both the importance and the challenges of fatherhood so give your dad the unique opportunity to relax and unwind and show them how we truly appreciate them.
We look forward to seeing you!
Click here to book your appointment with us!!